Thank you for tuning in to the first of our monthly updates for what promises to be an exciting year with the building of our jet hydroplane Longbow. 
At this stage of the build a big shout out goes to a couple of our sponsors and so in the first instance to Alan Holly and all his team at SGS Gases for their superb service and support in keeping our welding guru Steve Charlesworth, constantly supplied with shielding gas. Secondly, to Chris Baker and Leo Creno at ESAB for their sponsorship of providing us with welding equipment, consumables and technical assistance. 
So with all of that in place and delivered to Steve at his farm in the middle of nowhere up on the moors around Huddersfield, he commenced converting our various boxes of steel tubes and plate into our metal framework that will carry Longbow's twin pure thrust jet engines. So no pressure there then Steve! 
When I say he lives in the middle of nowhere I really do mean it is off grid and my little old banger of a car would wince every time it sensed our destination and go, oh no we are not off there again are we? There are probably delivery drivers frozen in trucks who looking for his address in the middle of winter have never been seen again.   
Anyway first of all Steve did a test joint of the BS4 T45 tubes using the TIG filler rods that Leo from ESAB had recommended for this application. Once satisfied with the results he was up and away to start making the first of the three ladder frames that would form the engine cradle. You will also note from the photos herein that he has welded caps on the exposed tube ends in order to seal them.
It is essential when fabricating something like this to have a perfectly flat surface to build the engine cradle upon, which Steve thankfully has with this massive and extremely heavy former machine bed. How he managed to get that to his farm from the main road I have absolutely no idea. It is also a requirement to get the engine cradle tacked together as a whole and then cross brace it to try and minimise any tendency for the frame to pull or twist in one direction or another, as each of the joints are then fully welded. 
One of the things I have learnt with age is you cannot beat having somebody that has a lifetime of knowledge and experience in their field of expertise having a second look at a drawing you present them with to fabricate. Always be ready to take on the advice they give you and an example of this was Steve saying that whilst the outer ladder frames will be rigid in the hull once bolted into the craft, it would reduce the risk of distortion during fabrication if we added some additional triangulation to the framework. At the same time it would also improve the rigidity of the cradle as a whole with minimal additional weight trade off. 
Whilst we could have had these additional pieces of tube laser cut from a revised CAD drawing it would have held progress up, so Steve just rolled a piece of paper round the tube as a template, shaped it as required with hand tools and cracked on, job done.  
You can see that Steve also welded some temporary corner brackets on to the frames so that it was easier to measure / check alignment of the structure compared to trying to measure the round tubes alone. 
In the meantime and in order to keep me from annoying him whilst he got on with doing the important stuff of gluing bits of metal tube together, Steve handed me back all the steel plates I had taken for the cradle and told me to get rid of the black oxide coating from all the surfaces as it would contaminate his welding. 
Black oxide is a chemical process applied to various metals (in this instance to steel) and it is done for various reasons by the manufacturer; such as reducing light reflection, reducing corrosion, helps maintain sharpness and adding microscopic thickness. I don't know how easy black oxide is to apply to the steel (and there are at least three different ways to do so) but in this case, whichever process was used to apply it, it sure wasn't the easiest thing to remove, especially when dealing with such small awkward shapes in many instances. 
Nevertheless we got there in the end and I could then drive back over to Steve's (car definitely not happy), to proudly present the now shiny plates over to him with all the enthusiasm of an apprentice on his first day of work. To which Steve glanced up, said 'aye they'll do' and carried on welding whilst I huddled by the log burner in the workshop, hoping his guard dog Roxy cracking apart another large (hopefully animal rather than human) bone in the corner wouldn't devour me in a similar fashion. 
In the next set of photos for the cradle you can see the trunnion mounting structure being fabricated which will allow the main mounting points on either side of each jet engines to be bolted down into the cradle frame. A flexible head on the TIG welding torch really came in handy for reaching into all these awkward areas, though I am sure I heard my name being cussed a few times from under Steve's welding mask.
You might think that would be it but no there was still an awful lot of fiddly small support bits of plate to weld into place and as part of these you can see the cradle now inverted so some of these could be attached.  
At time of writing we (as in Steve) are not a long way off completing as much of the twin jet engine cradle on the build table as he can and we should be able to get it back over to my cottage workshop in the next few days for a trial fit in the hull of Longbow. There is a point at which you have to take the engine cradle structure off the build table and carry on with the rest of it actually in the presence of the craft, otherwise you run the risk of something not quite fitting how you thought it should and just making unnecessary work for yourself (as in Steve) having to move something he has already welded.  
Away from all the engine cradle fabrication, something that was rather a shock this month was my good friend in the USA, Doug Ford who was for a number of years Director of Safety, Technology and Competition for H1 Unlimited hydroplane racing, a brilliant hydro & aerodynamicist passed away suddenly. Doug was part of the volunteer crew for the propeller driven Outright World Water Speed Record hydroplane Slo-mo-shun IV back in the early 1950's that held the record at just over 178mph prior to it being eclipsed by Donald Campbell's Bluebird K7 pure thrust jet hydroplane. Doug was instrumental in the development of design specifications for the structural enclosed cockpits of high speed hydroplanes that we see in use today and that have saved so many lives making the sport so much safer to compete in.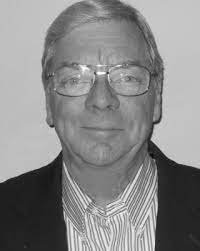 Doug was involved with improving a number of hydroplane hull designs, perhaps most notably his work with the Unlimited class hydroplane Budweiser T4 hull based upon aerodynamic characteristics of the aerofoil boats of Dr. Alexander Lippisch developed back in the 1940's. Lippisch discovered that a vehicle with a reversed drooped delta wing would create an air cushion under the wings that would enable the craft to skim just above the water using minimal power. Doug wrote a number of books and technical papers upon hydroplanes and knowing him over so many years, he was just a really genuine lovely guy, who was such a great help to me with his vast amount of knowledge and advice relating to high speed hydroplanes, safety cockpits and in particular how all of that related to our little project. Our sincere condolences to his family and friends at this sad time. 
On a somewhat brighter note this month I was back at the University of Central Lancashire (UCLan), Preston at the invitation of Paul Critchley who is the Technical Manager for Workshops & Engineering there. Paul has very kindly offered the use of their commercial sized walk-in Prepreg composite oven and associated purpose built freezer the latter capable of storing Prepreg material down to at least -18ºC prior to use. All of this being within a dedicated clean room with setting out tables, etc which we are hoping to make use of with some elements of the building of Longbow in the times ahead. 
Whilst I was there Paul very kindly took me on a tour of the engineering facilities at the University introducing me to various members of staff and showing me some of their capabilities. I was surprised at just how extensive their engineering site is and it was a maze of one department after another with dedicated rooms / workshops for each area of expertise. There are for example large bed 5 axis CNC machines, various sized water and laser jet cutting facilities, a mould / pattern making room, multiple wind tunnels, flight simulation, welding and vehicle body forming, vacuum forming, a dedicated fire testing workshop, a material testing workshop, it just went on and on. I have been to several universities over the years for one reason or another but the thing that struck me with Preston UCLAN is all the staff there working as a team making everything in house for various projects.
Some of the engineering staff I was introduced to there were from the former TVR sports car factory that used to be just up the road from me at Bispham, Blackpool. This tied in nicely with Steve our welder having a collection of TVR's some of which are very rare models and the ongoing help we receive from the Blackpool Thunder Car Club for TVR owners, who are one of our sponsors.  
So that is where we are currently up to folks. It is a great start to 2023 for the project and such a very big thank you really has to go to Steve our welder, who despite the snow and terrible weather up on the moors where he lives, kept his log burner going in the workshop, got his head down for us and cracked on like the hero he is, to help in such a very big way to make the venture happen. 
I just hope it fits………
See you at the end of next month to find out.